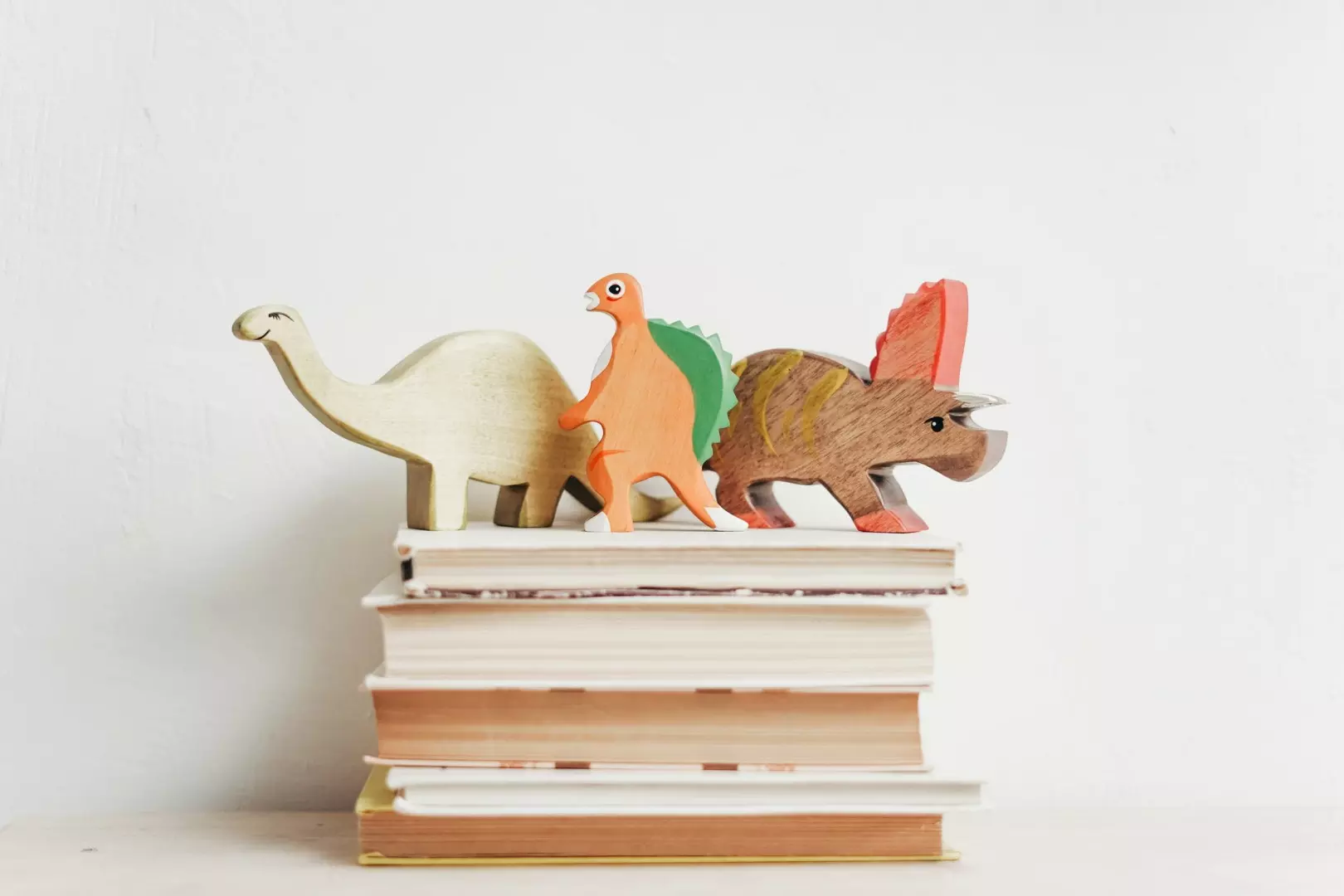 While the homepage works hard (with all its necessary temptations) to provide all brand and company-related info to the customer, it does not guarantee that the customer will make a purchase.
For that, expert marketers rely on landing pages and lead-capture forms. This is the most efficient way to convert website visitors into leads. Though, to get a higher conversion rate and low bounce rate, you need an attractive landing page design. But before we dive into the specifics of that, let's know what exactly is a landing page.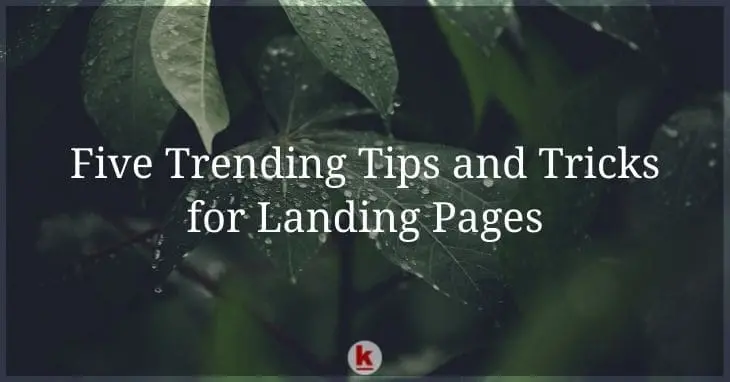 What is a Landing Page?
Landing page (of a website) is the most focused torch bearer while planning a digital marketing campaign. It is simply resolved to derive traffic and convert leads. The only purpose or goal of a landing page is call to action (CTA). Having few or no links on the landing page will create no potential distraction for a better call to action. So, it becomes very important for the marketers to choose the most suitable landing page design.
Converting leads through landing pages is one of the most effective ways to get more customers but it's not necessarily the easiest. However, we have listed some of the best and efficient ways to build and optimize your landing page.
Here are six trending tips and tricks to create landing pages which convert visitors into leads.
1. Less Clutter, More Conversion
It is clear that the less distraction there is, the more conversion you are likely to get. But sometimes it becomes really difficult to sell your product with minimal info. Not to forget the small amount of time you get to please your customers.
That's why it becomes an absolute necessity to plan your page in a way that it gives out only the most necessary information in a line or two.
No one would better understand this than B2B marketers. They have to strive hard to tailor their bulky info into a few graceful lines for their B2B landing pages. For example, take a look at this landing page from MediaValet which keeps it simple, and specific with their text and images.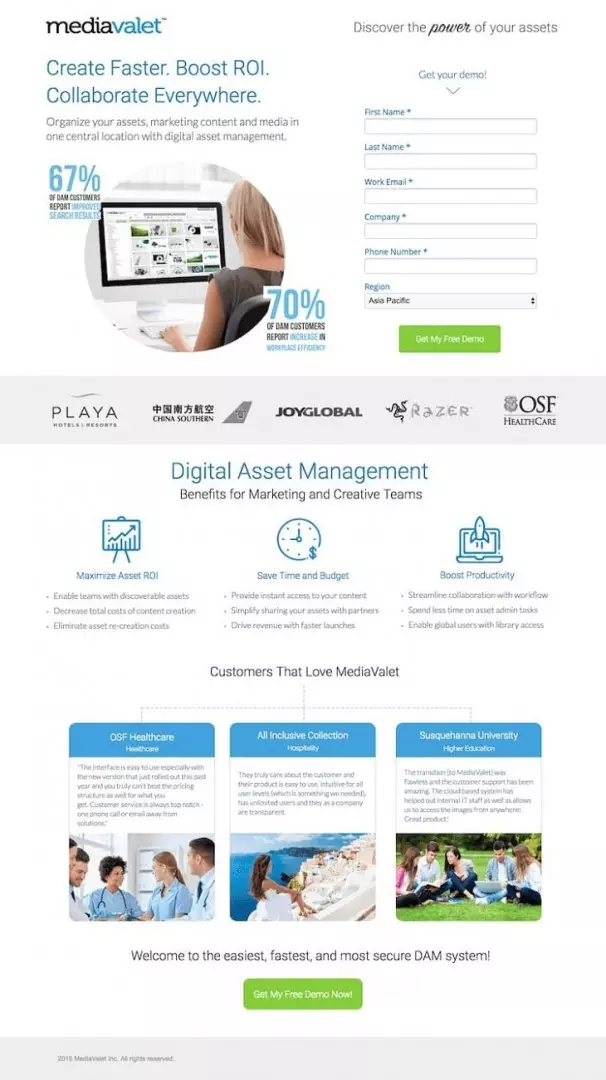 Source: Kinstacdn
2. No Navigation, No Distraction
You have a visitor on your page, but there are links to move him around the website. Getting distracted is very easy and all the efforts for CTA will blow out of the water.
Navigation through links encourages the visitor to explore the website but that won't help in converting your leads and ROI.
So make sure you leave no links behind. It is the best way to increase conversions and bring down the landing page bounce rate.
3. CTA That Stands Out
It is already known that visual information is very easily comprehended by the human brain. So the design of your landing page plays a key role in its success rate. The simpler it is to understand, the better conversion rate you get.
The visibility of the CTA button becomes very important. It should stand in contrast with the overall design of the page, like in most of the minimalist landing page designs. Here is an example of a hotel landing page: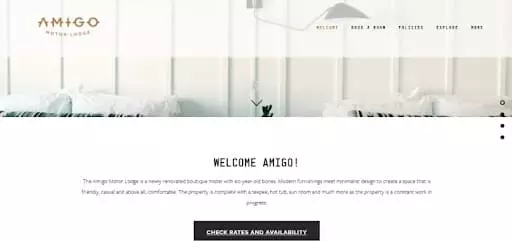 Source: StayAmigo
This page provides photos of hotel rooms and a clean design without any navigation. It fetches the immediate attention of the visitor and encourages call to action.
4. Social Proof
No distraction, simple design, creative logo, and clever CTAs are definitely necessary. But proving your credibility sounds about right.
We are well aware that frauds and scams have unfortunately become very common. And so there is a fair chance that a visitor might not want to trust your product. It would directly affect the conversion rate.
In that case, providing social proof is very important to convince the visitors. People are more likely to buy what others have already bought and these proofs become essential for lead generation. Online reviews and testimonials would also be valuable additions to your landing page.
5. Short and Precise Forms
Filling out forms can be a tedious task. People get passive in filling out forms especially if they are long and ask for many details. So make sure the form asks for the necessary details only. And if your form must have many fields it should still look shorter. For that, you can decrease the spacing between the fields and make it look short.
You can also try precisely mentioning the benefits of your product or service right next your form. If the visitors see what's in it for them, they are most likely to fill the form.
6. Trending Landing Page Builders
You don't necessarily need web developers or coding experts to create a landing page for you. Today, many landing page builders are available in the market to help you create a landing page design easily without any code. Make sure to choose one that is easy to use and suitable to your brand, considering your skills in online tools.
Some of the trending landing page builder tools are as follows:
Unbounce
Landingi
Hubspot
Ucraft
Instapage
These landing page builders are cost-effective, easy to use and provide ample templates to choose from and trending features.
Conclusion
Landing pages help to boost the organic traffic and convert your visitors into loyal supporters or customers. To have a high-converting landing page, you need to create an incredible landing page design that grabs your visitors' attention at first view. In this blog, you read some of the trending tips and tricks you need to create amazing landing page designs that will help you in promotion and conversions. So, make sure to select the right landing page builder, say bye to navigation, dedicate a section to social proof, make your CTAs stand out, go for simple yet catchy designs and in no time you'll have a powerful landing page to promote and grow your business.