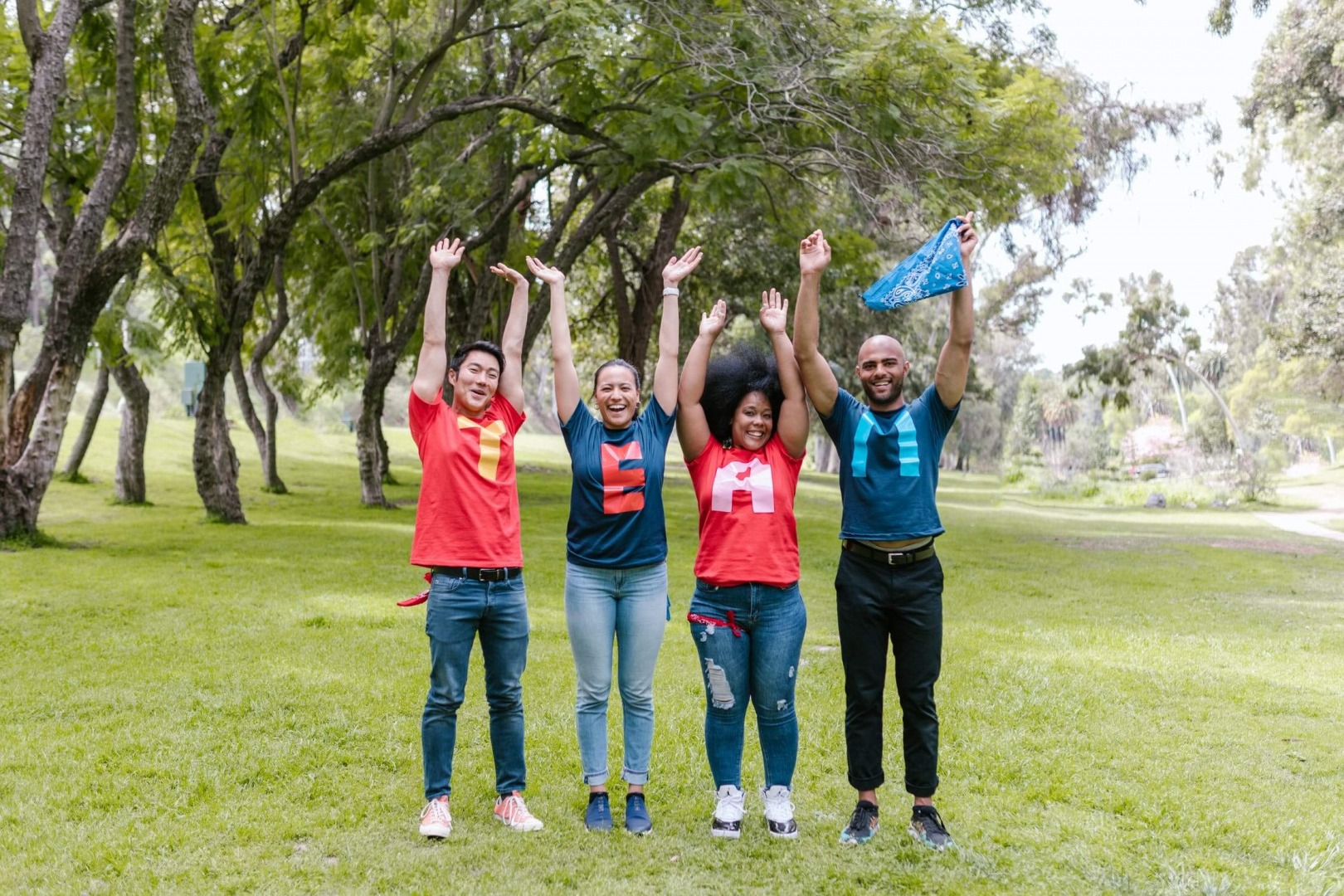 Do you have bold ideas for your business? Are there major changes you need to make – and quickly?
Maybe you're feeling frustrated that you've sunk time and effort into new initiatives with no tangible results. Make no mistake. Scaling your business was always going to be hard.
In our experience, successful change is down to one thing and one thing only. A collaborative team. And yet so often there's a discrepancy between the day job and the change job. We see this all the time. Cross-functional teams are brought together to drive changes and these people may not have worked together before. Too often there are low expectations and levels of accountability. The work isn't perceived to be valuable. Instead, it's seen as an extra burden on top of everything else. And this causes even more dissatisfaction.
If this is familiar, be reassured. Building a collaborative team is eminently achievable. But if you want to grow your business, you need to master it. And it's going to take planning, a deliberate approach and hard effort. Based on my experience as Managing Director of two fast-growing tech scale-ups and our clients' experiences, we're sharing some recommendations. Read on!
Free People up to Focus on the Task
Here's the thing. If you've got something that needs fixing, you need to free up the right team to fix it. Sounds simple but this can be the cause of endless discussion with our clients! Where we see progress, it's in companies that have cracked this most basic of messages. If you don't free up people's time to do proper justice to a task, it's unlikely to succeed.
Often, the most important change that our clients want to make is increasing new business revenue ie. winning net new clients. This is a fundamental objective that will drive everything else in their business plan. But there's still resistance. We're given a whole plethora of reasons why it's impossible for people to give up the things they're currently doing. OK then. If you really can't do this, then you'll have to accept mediocrity. Because it's not going to happen without it.
You're going to have to make difficult decisions and it's going to be painful and deeply frustrating. But this is how you get from a situation where your team feel put upon and devalued to a point where they feel they're doing worthwhile, satisfying work with meaning.
Decide the Right Mix of Skills
It's important to ensure the right mix of skills on the team. From the work we do with Lencioni's Working Genius tool or Gallup Strengths, it's clear that people tend to either be relationship orientated or task orientated. Look at the project and work out what it needs. Ensure you have a good mix of vision, ideation and execution.
A good example is a Sales Director who works for one of our clients. He was brought in because they had an issue with execution and, being task-focused, he's excelled. So much so, that they now need a shift in strategy. But this guy doesn't have a natural strategic aptitude. They're going to need someone else to support him.
Also, don't make the assumption that because someone is senior or has years of experience that they'll have the right skills. Sometimes, the fact that someone's been working with you for ages can be a hindrance when you're trying to change your approach.
Agree on a Frame of Reference
Business is like a team sport – you need all your players to know what you're trying to achieve, the rules, the white lines and the score in real-time. Establishing this frame of reference is crucial. What are the objectives of this team? And what are the key results they're aiming for? Get really clear about what they're going to do (and what they're not going to do).
Make sure, before they start doing anything, that they all agree. And this frame of reference needs to match the expectations of you as CEO and your executive team. Remember, this group of people won't necessarily have collaborated before. They're being brought together to enact change so the team needs to agree they're a team!
Allocate Roles
The same clarity is needed on the roles people are playing and how their individual objectives link to the team's objectives. The best way to do this is with job scorecards. These will define each person's role in the team and identify the three to five activities that are their main contribution.
Unless the team is fully committed to this task, they're likely to be allowing a certain amount of time each week in addition to their day job. Whether it's a half-day, or 2 days a week, there needs to be a complete commitment to carving out this time. And a sense that this is a reasonable ask. Accountability is so important – they need to agree they will do the things they say they will do. In our view, it's better to work on one thing at a time – there's no such thing as multitasking. All that will happen is task swapping which can be really inefficient. They need to agree when this work is going to get done and who's going to do it.
Because, too often, the day job gets in the way. And that's a fact. We find a common card people play is, 'I got a client request which meant I couldn't do the change task'. Yes, we know internal business stuff is never more important than client work. But you get client requests all the time. This is about setting expectations. Tell the client that you will get back to them tomorrow. Or you're not available. We see this dysfunction show up all the time in organisations that don't achieve anything. They use their values as weapons to maintain their mediocrity.
Agree on Team Values and Rituals
Teams that have worked together for a long time will have well-established values and rituals. Going the extra mile, teamwork, getting stuff done – whatever the company values, they're likely to happen naturally as part of everyday working. Similarly, the rhythm of meetings, charts showing progress, rewards and celebrations – all these rituals and ways of doing things are obvious.
None of this will exist in this new team. Whoever leads it will need to think very carefully about how to apply company values here. And what rituals and rhythms of working need to be established. These won't just happen. They need to be made clear and explicit. And team leaders will need to work extra hard at the transparency of progress and saying thank you.
Do the Riskiest Activities First
Working on something new is often harder than business as usual and there's a danger your new team might get paralysed. We always advise doing the riskiest activity first. This particularly applies to this sort of work. There's a tendency to default to the easy, busy work and put off the challenging, harder tasks. So, make sure they schedule the riskiest activities first so they don't waste 90% of their time on things that make no impact.
They need to work out the hypothesis that needs to be tested. Where's the inherent assumption in the change activity they're running? This is something we do all the time when we're reviewing objectives. Sometimes, we don't find anything. Other times, there's a moment of realisation – 'Oh shit, this is going to be harder than we thought!' Even though we might point out the thing that needs to be tested, there's an unwillingness to go there. It's human nature – people don't like to fail. They want certainty and feel unsettled if something they think is true is shown not to be.
Work on Building Relationships – Including Socialising
In everyday working teams, it's likely that you know each other well. Socialising and spending non-work related time together comes naturally. When you're forming a team for the first time, there's none of this shared understanding. So, you have to be deliberate about creating it.
We've noticed this when clients have been through M&A. For the first time, people are brought together and they need to work on integration and understanding each other. There's storming, forming and norming stuff that needs to go in the diary. You need to be deliberate about creating psychological safety so that this team can learn enough about each other to have difficult conversations.
Agree on Executive accountability
If there isn't a senior leader in this new team, it's important to clarify executive leadership. Which member of the Executive team has their head on the block for this new OKR? You don't want this team to be sinking and swimming on their own. They'll need someone who can unstick things and be accountable for their success.
How will senior leadership engage with this team and mentor them? There's a danger that if you have too many experts, they might be in conflict with one another. Anticipate this and deal with it. If the team has many members with the Working Genius profile of 'Discernment', they may need to go slower. Someone has to own and drive the vision through. And the team has to agree to disagree on occasion, with an overriding commitment to always move on from confrontation.
---
Change is difficult in companies because there's no clarity around time commitments, expectation and results. And there's no sense of purpose to the work. It's dead easy to invite more people into a process but incredibly hard to get them engaged if they're swamped with other things. But with careful, deliberate planning, it's possible to build highly effective, collaborative teams. And once you've cracked this, the sky's the limit.