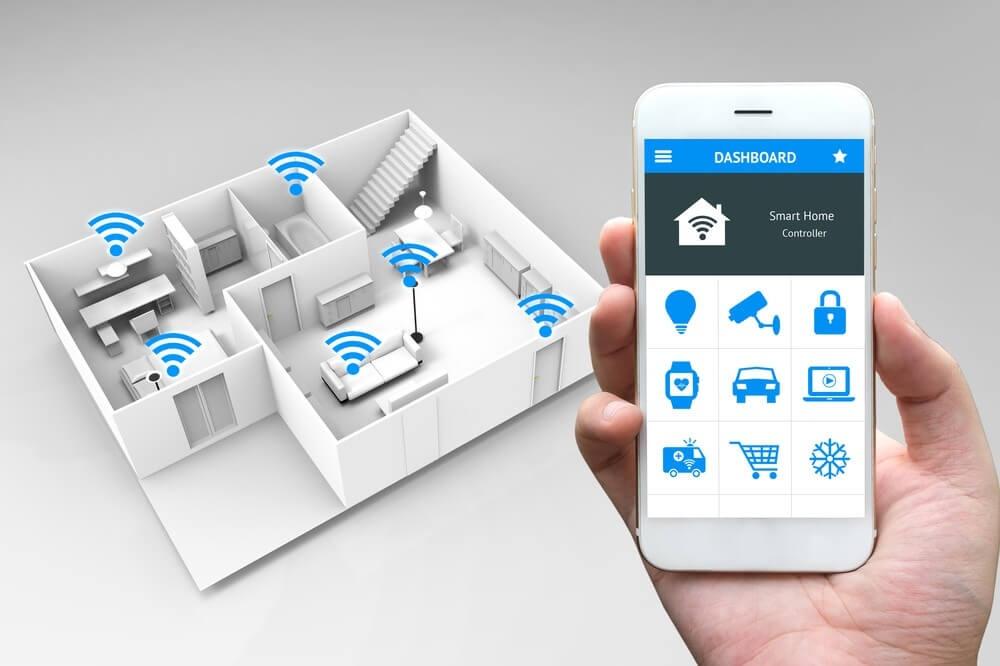 Home automation systems provide a multitude of convenience and energy-conservation features for smart residences.
Some of these features can be tweaked for domotics to be applied outside smart residences too. So, what does the smart home market offer apart from smart homes?
Home automation systems take the concepts of domestic comfort, convenience and connectivity to truly stratospheric levels in smart residences. Using IoT and elements of AI, such systems offer several benefits and unique features to smart home inhabitants. While the smart home market is growing rapidly and promises to do so in the future too, domotics—forged from the Latin word 'domus,' meaning home—still occupies a somewhat niche zone when people talk about real-world IoT applications. That is due to the fact that home automation is highly expensive to implement and, therefore, only used by a small percentage of families around the world.
Nevertheless, several attributes of domotics, a close relative of building automation, can be applied outside smart residences. The use of IoT-driven automation has commercial applications in other places too. Here, we will discover some of those places where domotics-like features can be used for convenience, safety, security and automation.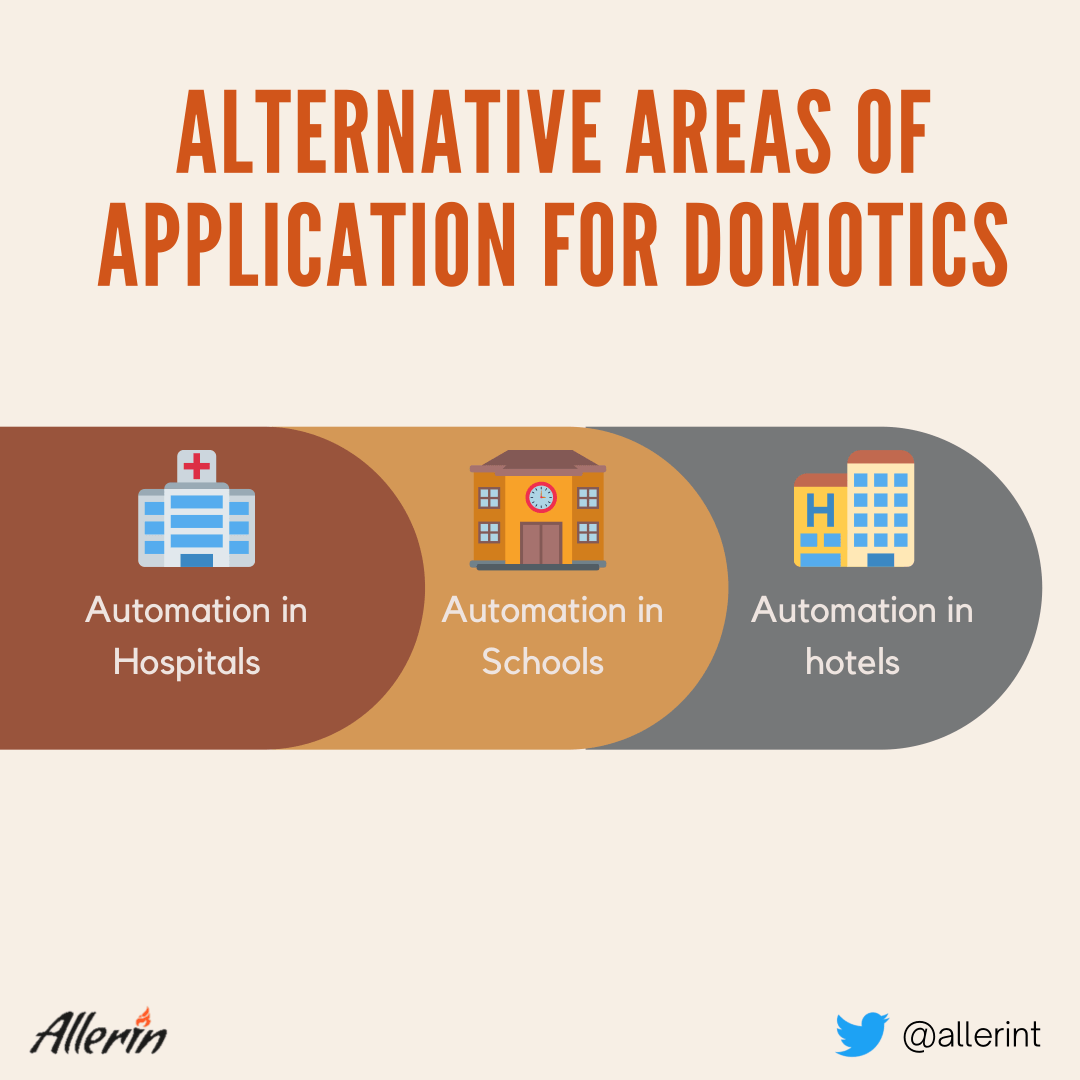 1) Automation in Hospitals
In the last decade or so, technologies such as AI and IoT have increasingly made their presence felt in the field of healthcare. Apart from playing a role in surgeries and patient diagnoses, AI and IoT can be used to automate everyday components of hospital rooms and buildings too. Hospitals offer many automation opportunities for the smart home market players to exploit.
Patient comfort and wellbeing are some of the main priorities for hospitals. Therefore, just like in smart homes, the temperature, ventilation and cooling in hospital rooms can be regulated via IoT-powered sensors and remote controllers. Smart sensors in hospitals can detect the required heating or cooling requirements by assessing the temperatures in individual rooms. The regulation of HVAC is usually carried out by automation systems using external temperature as a yardstick.
More than HVAC, patient safety and security are prime priorities for hospitals. To ensure the safety of patients, hospitals use cameras that closely monitor visitor activity for each patient. Based on how safe the authorities—and the patients' relatives—deem such visits to be, visitors are granted access into hospital rooms. Just like how smart residential buildings may have barcode scanners to scan visitor passes before outsiders are allowed to enter, 'smart' hospitals can use computer-vision-powered solutions to manage access control for new visitors trying to meet patients. Automation not only facilitates visitor activity, though. In emergency situations, such systems can be used to aid the movement or evacuation of patients as quickly as possible.
Security is also bolstered by using video cameras in hospitals. The cameras allow security managers in hospitals to continuously keep an eye on surgery rooms, psychiatric wards, and other sensitive areas so that security breaches or attacks can be snuffed out way before they take place.
Additionally, IoT-enabled internal communication and notification systems in hospital automation systems can improve efficiency in the communication between patients and hospital staff members. The surgeons who are not present in an operation theater due to geographical distance can guide the doctors present there through surgery by relying on the real-time health details being sent from various connected devices to them. As we also know, IoT and AI allow humans to control robots remotely. So, the possibility of doctors operating surgical robots remotely to perform or assist other surgeons during an operation is also there.
In addition to these, intercom systems and other communication-aiding technologies facilitate two-way communication. Based on real-time health readings, digital notifiers can alert doctors and nurses about possible deterioration in a patient's health condition.
2) Automation in Schools
Apart from hospitals, the smart home market players can find tantalizing automation possibilities in school buildings and classrooms too. Although home automation and schools maybe, on the surface, seemingly worlds apart, many features of domotics, like HVAC regulation and device connectivity—that can be used here for tasks such as exam proctoring—can be applied to vastly improve the daily functioning of a school too.
As stated earlier, school automation involves the regulation of HVAC. Building automation systems use IoT sensors to receive information about the temperature in each classroom in schools. Based on that information, the internal temperature in classrooms will be maintained through automated heating or cooling of the classroom, just like how it is achieved in a smart residence. Centralized HVAC control is a distinctively home automation feature, and here it is used to make a classroom environment more conducive to learning for learners. As we know, schools in America have seen several gruesome mass shootings in the recent past. So, it is needless to say that security monitoring is highly important for schools and universities there—or anywhere else in the world in these perilous times.
A centralized security system can prevent such things from happening with assistance from tools such as CCTV cameras, computer vision-powered facial scanners and behavioral forecasters. If such systems catch something suspicious within a school building or a classroom, teachers, students and law enforcement offices nearby will be alerted through mobile devices or via a centralized announcement system. Acting proactively can enable the concerned authorities to prevent such attacks before they take place.
Schools spend vast amounts of money every year on energy consumption. Energy saving is one of the main requirements of the executives who are responsible for the daily functioning of schools. The massive amount of money spent in the area means that any solution that lessens the power bill is welcome in schools. Additionally, as we also know, the energy consumption in schools is not on a 24X7 basis as schools are only operational during a set number of limited hours per day and may lie idle during student vacations—generally, that is for a few months out of a year. Automation technologies involving IoT can aid schools to reduce their power consumption throughout the year in the following ways:
Intelligent HVAC controls in the automation systems are used to regulate energy usage in classrooms and other places in a school. Similar to power-saving smart home tools, these controls enable schools to automatically shut down the power supply to the areas of the building where nobody is present. During peak hours, this feature can help schools save thousands of dollars every year.
Apart from HVAC, smart schools also employ light and motion sensors to keep only those lights switched on that are needed. Light sensors can not only turn out the lights that are not required, but also regulate their brightness and projection area in order to save energy.
CCTV cameras generally consume a lot of energy. Therefore, their usage can be minimized when their work is not required at 100%. AI-based systems can reduce the workload of CCTV cameras to ensure this.
System Optimizers (ASOs) in the setup are used to collect and analyze information and regulate power distribution to electrical devices in a school. Factors such as occupancy patterns and utility rates are considered during the regulation.
3) Automation in Hotels
Building automation in hotels is similar to how technology is applied to the two places listed above. A few modifications are made to a standard smart home template to make the concept work for hotels. Contactless and automated check-in and check-out can be carried out by automation systems in a hotel. As a result, guests can directly visit a hotel and head to their room without having to wait at the reception desk. Making the reception obsolete is one of the main benefits of smart hotels as it allows guests to save some of their time. Smart keys or mobile phone application-based check-in makes this possible for hotels to implement.
Also, in the ongoing COVID-19 era, preventing people from standing in close proximity with others is useful to control the spread of the virus. Generally, hotels employ several individuals to handle tasks such as data entry and check-in. Automation allows hotels to employ a lesser number of people for tasks that can be achieved with automation. As we know, AI, IoT and other intelligent technologies are fully capable of handling such tasks without human intervention. Additionally, the guests at any hotel—especially people who come from foreign countries—may prefer to have digital read-outs or display systems rather than a human receptionist to avoid language barrier-related issues during checking-in or out. All in all, hotels can cut down on their personnel expenses by hiring only those employees who are indispensable to them for their daily functioning.
One of the common misconceptions regarding home automation tech is that it is just that—a home automation tool—and nothing else. One must know that technological tools and applications should be reimagined and reconfigured according to shifting requirements across industries. Once this fact is understood and accepted, not just domotics, any industry will grow even more rapidly than it is doing now.