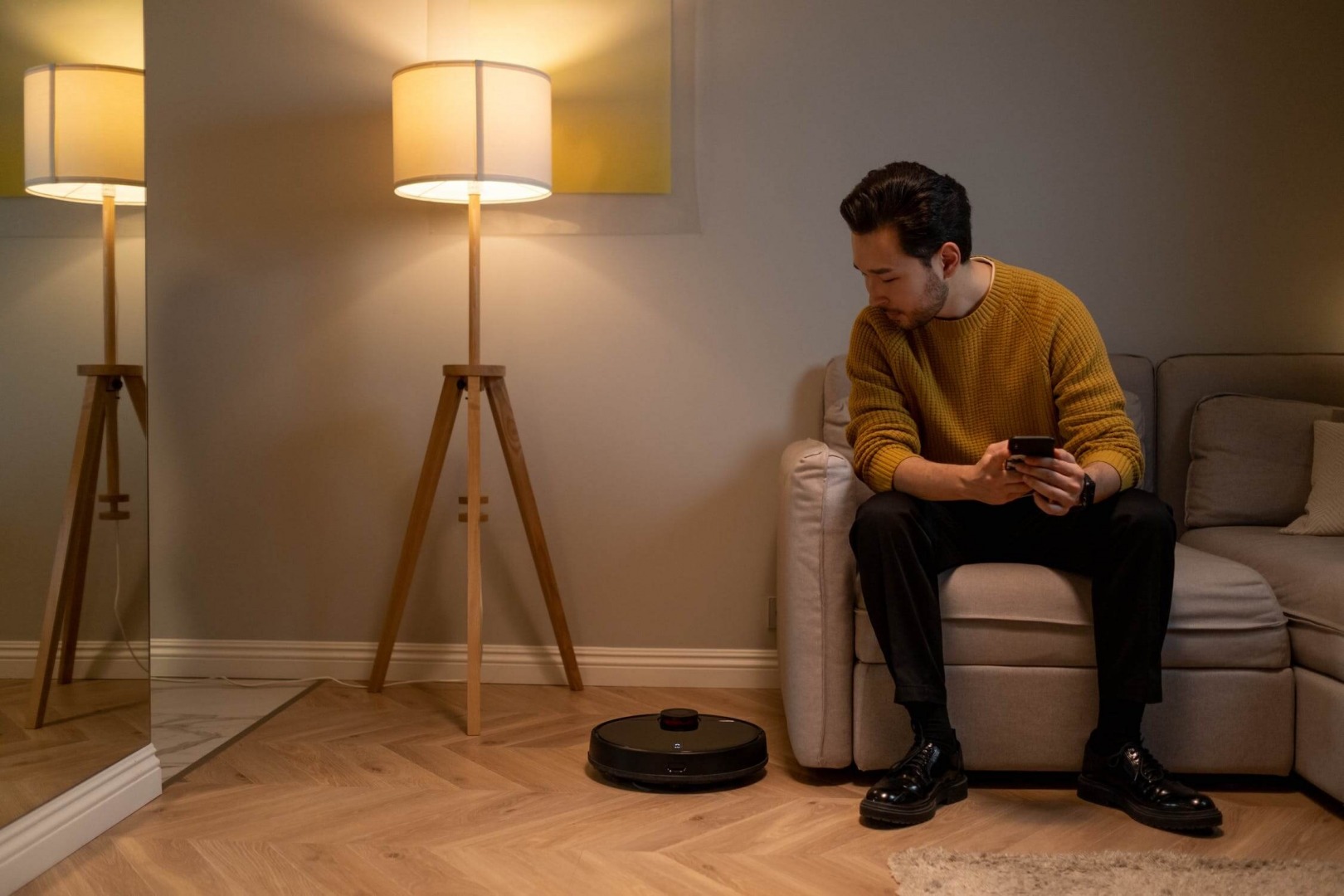 Do you know what it's like to have multiple home devices connected and operated via remote control, be it the Internet or a private network?
We don't mean just your computer, tablet, or phone but every home device or piece of technology used daily such as kitchen appliances, utensils, water heaters, lights, window blinds, pet feeders, and the list goes on with new additions added daily.
To receive real-time information from such a device, enjoy the remote control at the tip of your finger, or use voice commands, is cool, convenient, and maybe even futuristic, but it's here and it's happening here, now, even yesterday.
At BBN Times we know it's not science fiction. Smart buildings will be the new normal and the natural course of action for humanity. No doubt about it.
It's all possible thanks to the Internet of Things (IoT) and the V2.0 Internet of Everything (IoE) and it's taking over the world thanks to the ever-growing variety of advanced functions, features, and abilities that reduce human efforts to save us all precious time!
Alongside fancy designs, innovative home devices offer immense help with domestic chores and lighting-quick solutions to everyday problems are just one click away.
So, the concept of "smart home technology" is the latest and most efficient approach to customise any home to new levels of convenience and comfort.
Just check out the data! According to US data from Statista, growth is mind-blowing: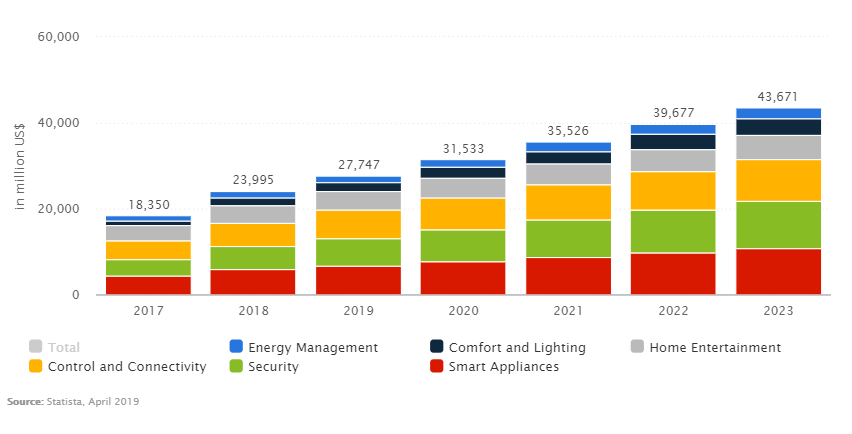 And the penetration in percentages is indicative: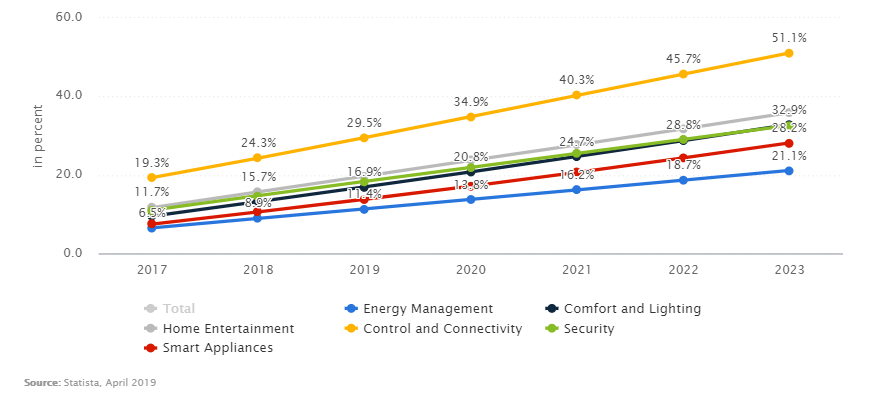 From relatively inexpensive units to products of a solid investment, from single-home assistants to entire remote-controlled systems, there is a wide range of gadgets and cutting-edge technology implementations to match any specific demands for automation and connectivity!
Explore these other BBNTimes guides:
Back to this guide, now. Read ahead and learn about the growing smart home technology trends.
Without further ado,
Home Security Smart Systems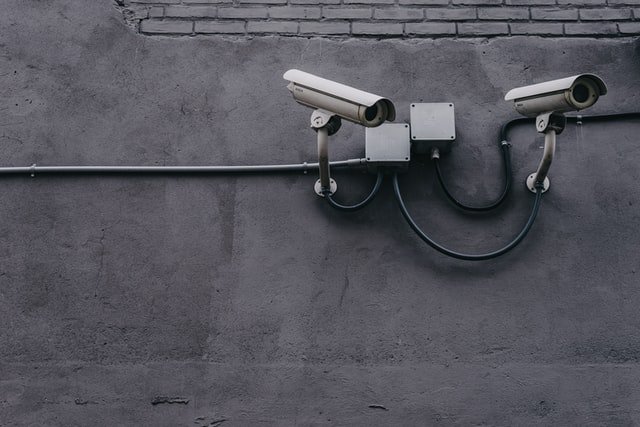 Smart technology is an efficient means to ensure home safety, protect your investments, and monitor an entire property. Some features like smart alarms or simple cameras have been in use for a long time now, but, nowadays, smart security setups are more and more progressive, advanced, and efficient so they guarantee a solid level of safety.
Voice and facial recognition gain serious traction as biometric authentication comes to play for protection against intruders. "Automated door locks, environmental sensors, and other wireless systems are on the way to cover the entire property, just through Wi-Fi and an app on your phone," comment home security experts from the Speedy Locksmith Company.
Developers and manufacturers come up with more and more features as competition is fierce, but you should be aware that the cybersecurity of connected systems is always at risk. The latest gadgets are designed to enhance home safety and your peace of mind, but threats never sleep.
Read more at BBN Times:
8 TYPES OF INTERNET OF THINGS SECURITY THREATS
Smart Lighting & Lamps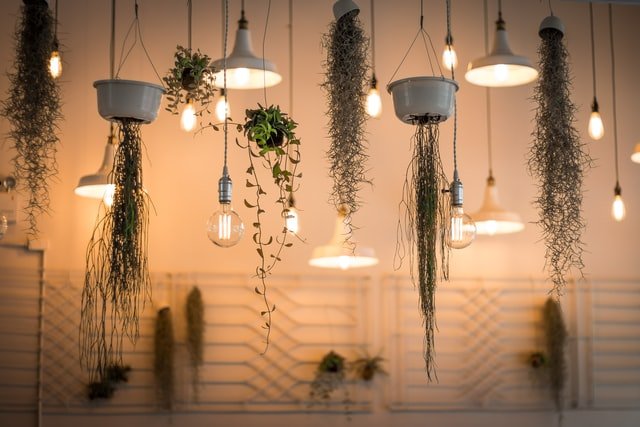 When about to transform your place into a truly smart home, lighting control is the first thing to do.
"Automated lighting systems offer impressive control that reduces utility bills while providing a comfortable home environment," says professional property buyer Paul Gibbes. "Adding improvements of such grade can substantially influence value estimates and the time a sale could happen," he added.
Benefits of smart lighting:
Vacation-mode, that you set to make your home look like you and your family are there when you're not;
Voice commands, that are quite convenient for turning off lights that your kids left on without even leaving your seat;
Colour-changing bulbs, so you adjust the lighting to match the current atmosphere, fade to darkness, or illuminate to sunrise;
Helps to better rest - the brain is positively sensitive to light and that's why it's crucial to our sleep cycle. Smart lighting helps you simulate the proper light to fall asleep or wake up.
You will find more and more new smart lighting options listed on the home market. The latest smart lighting devices and systems have features that go beyond their main purpose of providing light, such as:
Not sure if there's going to be rain today? Set the smart light, located on your home entryway to turn colour in the forecast.
Do you sometimes miss important notifications? Adjust a smart light on your desk to flash red when you receive an important message.
Do you want the lights in your home to turn as soon as you get there? Set them to turn on immediately after you connect to your home Wi-Fi.
Besides having control over what goes on and when, up-to-date tech puts colour temperature in the mix, too.

Source: Light bulb colour temperatures
We, as consumers, have the freedom to combine smart tech to get the maximum of comfort and aesthetics. The combo of innovation and design can be pure magic.
Smart Plumbing & Water Management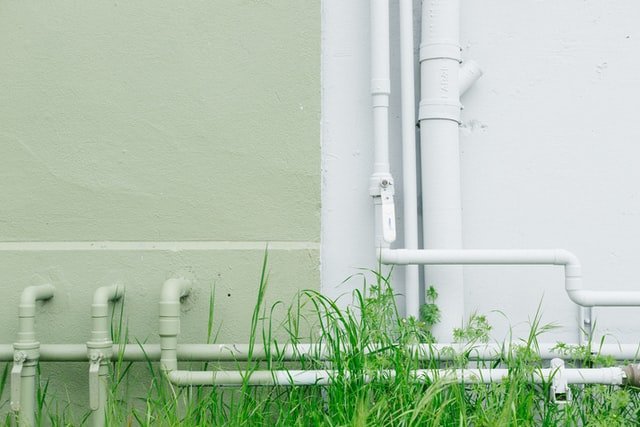 Smart plumbing is one of the newest trends making its way to more and more homes.
Do you wonder if it is even possible to connect water systems to the Internet? Well, the answer is yes!
The industry advances so fast that we now have smart plumbing technology that enables homeowners to learn when and where there is a leak the moment it happens. A pipe bursts while on vacation? You learn of it on the double and water input shuts off. Technology is a remote control that could help prevent both serious costs and damage.
Smart plumbing installations offer the ability to remotely shut off the water when that unexpected leaking accident happens or pressure builds with a clog. It's also of great help when you run the tub faucet, go to check on something, and completely forget about the running water that will eventually flood the floors, room, abode, and if living in a building, your neighbours.
Still, let's not forget the more simple, yet equally useful functions that smart water setups offer such as being able to set the boiler to heat for when you come home, or have the bathtub filled with water. According to professionals My Plumber, other less-techy home improvements, such as integrating water softeners are on steady growth in demand, not because it's high-tech in the classic sense, but because it comes with the responsibility of health, thus making it "smart".
Uprising water technologies are the next frontier to creating a truly modern and smart home, not to mention the added value to a property up for sale. Plumbing tech detects pipe and valve issues on the double to help you tackle risk at the bare minimum of expenses.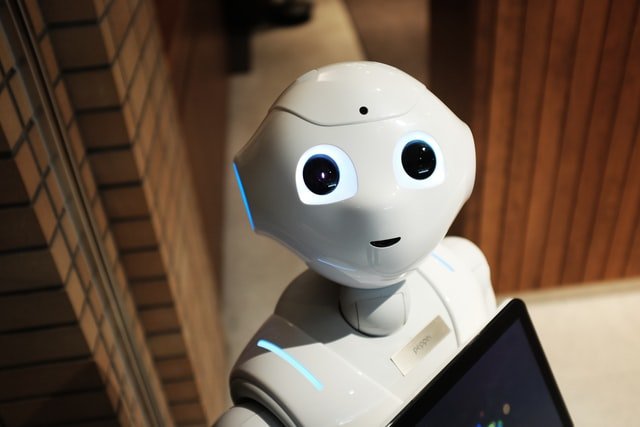 Smart Kitchens & Appliances
As days pass, we get more and more of a taste of what it's like to live in the kitchen of the future!
As a result, even the most basic appliances and kitchenware we use daily use high-tech. You can control blenders, microwaves, and even coffee mugs straight from your phone! Yes, you can set up a mug to upkeep the temperature of your coffee while you snooze around in the mornings.
You can have a micro indoor garden to grow your herbs with standalone light and an automated watering system. Add remote-control toasters, air fryers, coffee makers and the world smart tech is blooming. The one catch is well-designed kitchen circuits and to handle the power load and demand. In a similar sense, the same goes for kitchen plumbing as interconnected appliances will eventually require access to both water and electricity.
Smart Home Devices as Home Accessories
Usually, smart home devices are more about functionality and effectiveness rather than design and look. Most of them are clean and simple-looking in white colours, perfect for minimalists and easily matching various home interiors, too.
But nowadays, smart home devices are looking to blend in your home more than ever. They come in a variety of appealing shades, forms, and patterns to ideally fit every individual's specific style and preferences.
So, from smart speakers, bulbs, and clocks to smart vacuum cleaners, ovens, TVs, and the list grows on! You can now choose gadgets from a range of styles and colours. They add up not only to the practicality of your home but to its charm and aesthetics, as well.
Localised Areas Control
Going further into the matter of smart homes, we must talk through the localised house zones. Each area hosts particular smart devices, set to specific adjustments.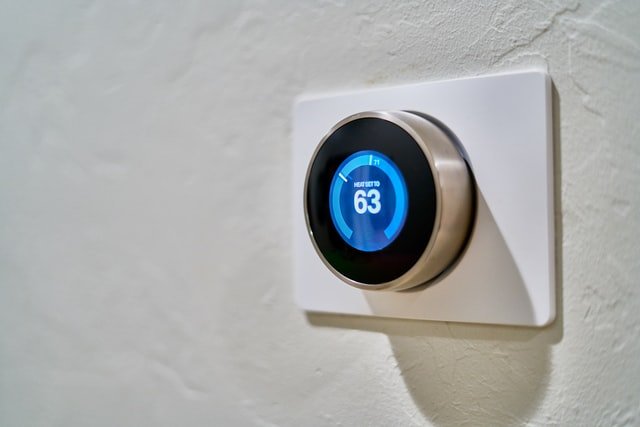 A common example is smart thermostats that allow tuning by zone. It lets you set the temperatures in different rooms depending on the season or the time you spend there. For instance, during nighttime, you can adjust the unit to keep the bedrooms warm and cosy, and the rest of the house - cold. And it automatically reverses during the daytime.
Smart zones are a substantial solution to high utility costs and energy waste.
Smart Air & Aroma Systems
In recent years we saw the huge rise of products in the field of air purifiers, diffusers, and humidifiers, that gradually shifted from manual control to automated and interconnected performance.
The field of aroma control has grown exponentially, comments essential oils manufacturer Galen-N. "You can now find fully-automated diffusers that follow when and where you spend your time at home, thus adjusting usage and intensity," experts added.
Read more at BBN Times:
THE HEALTH COSTS OF GLOBAL AIR POLLUTION
Smart Waste Management
Rubbish and pollution are an ever more alarming matter.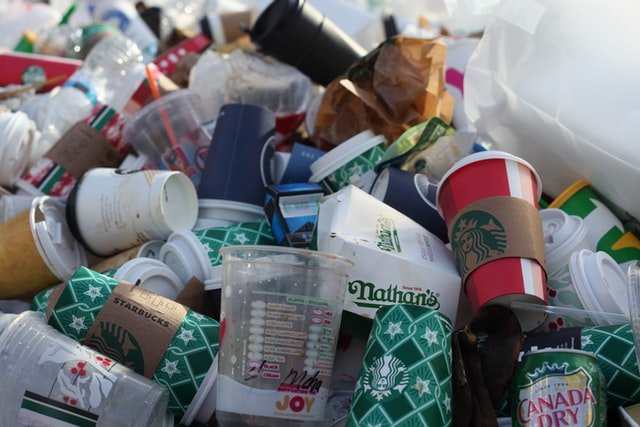 According to recycling facts, the volume of trash generated grows at an exponential rate and ever more people grow aware of practices, products and technology that reduces how much we waste on both the level of zero waste business and domestic level.
Depending on the type of property, size of a backyard, terraces, outdoor or indoor garden, be it a house, or apartment, we can go after DIY repurposing of organic leftovers and matter via techniques for producing compost or mulch. Applications range from classic farming to fertilising urban gardens. As long as you separate waste in a reasonable and efficient manner, both at home and the office, one could even restore a minor fraction of what you spent on plastics, paper, or metals to name a few.
Privacy Comes First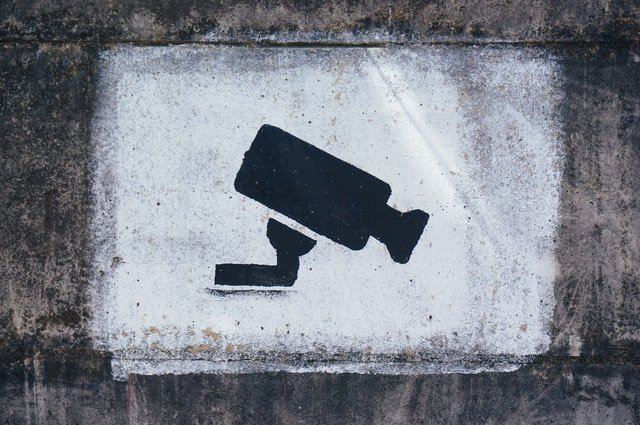 With all these advanced technology systems bringing optimality and ease to our everyday life, there goes the issue of personal data safety and protection.
Truth is, there are tech companies that share your personal information and preferences with Internet advertisers, traders, sellers, etc. so you get results and ads for your specific searches and tastes. This leads to your data being at risk of exposure and rough use.
Luckily, there are other trustworthy tech giants that value personal info and privacy. They share clients' details only when they are 100% sure that it would be for the sake of improving the experience of using their technology systems and units.
So, before you commit to using smart tech at home, make sure to research and find who does what and how, so you don't end up paying with your privacy.
Read more at BBN Times:
IOT IMPLEMENTATION CHALLENGES
Smart Tech at Home, Final Thoughts
Smart home devices may not be the latest achievement in the world of modern technology, AI, and IoT, but their updated features and functions are what is starting a revolution. The goal of smart homes is to impact our lives, complement ultimate comfort, security, and aesthetics to our lives, so we are free to focus on ourselves and the things we consider the most valuable.